snowmobiletrails.com
Arctic Man Ski and Sno-Go Classic
Hoo-Doo Mountains - Summit Lake - Paxson, Alaska
Every April at the foot of the Hoo-Doo Mountains near Summit Lake - Paxson, Alaska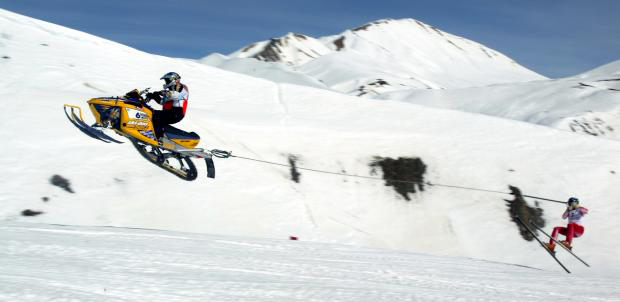 Photo by ERIC ENGMAN / Fairbanks Daily News-Miner
We usually spend 4 or 5 nights at the annual event, 3-4 hours south of Fairbanks down the Richardson Highway. We go for the incredible powder riding, and wandering around the nightly raucous of bonfires. We don't make a huge attempt to view the racing, if we're in the right spot at the right time, we see some of the racers go by. The race consists of teams of skier & snowmachine or snowboarder & snowmachine, some as far a way as Minnesota. Julie Thul from Side Lake, Minnesota; the World PowerSports Association Pro Women's class champ from 2003. Was on a snowmachine in the race with Alaskan Candice Drouin, who finished 1st in the women's ski division.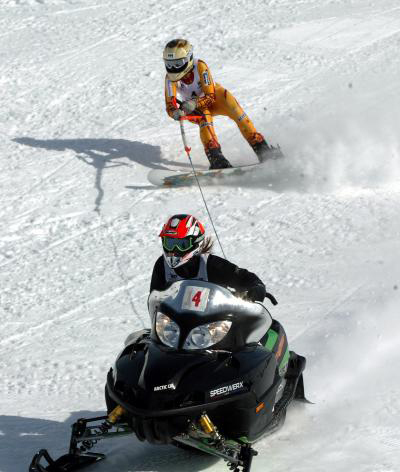 Photo by ERIC ENGMAN / Fairbanks Daily News-Miner
The skier or boarder starts at "The Tit," a 5,800 ft. (1,768 m.) tip of the Hoo-Doo Mountains and then within two miles (3.2 km) drops 1700 ft. (518 m.) into a canyon and meets up with their snowmachine partner. The skier / boarder grabs a towrope and the pair continues back uphill for upwards of two miles going anywhere from 70-90 mph (113-145 km/h).
At the top of the second mountain, the pair separates and the skier / boarder plummets down another 1200 ft. (366 m.) to the finish line. This race tests not only the skill and endurance of the skier / snowboarder but also snowmachine and driver. The race is grueling. The partying is grueling. With over 10,000 spectators and thousands of snowmachines, yes, thousands... I'm betting it is the largest snowmachine party on earth. There is; a bar, jail, thousands of RVs and campers, dancing, huge bonfires, snowmachines going by and folks having a good time after a long dark winter. Helicopters are flying day and at night with medivac emergencies, search and rescue and trooper patrols.
Did I mention parties, all night long.. ?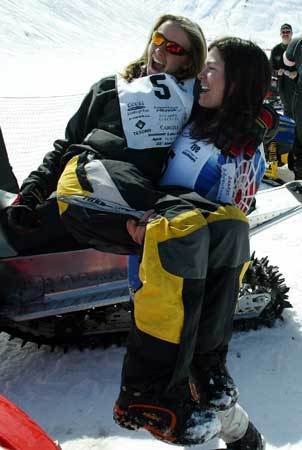 Snowboarder Sunny Prather, right, carries her teammate Moanna Bradshaw
Photo by ERIC ENGMAN / Fairbanks Daily News-Miner via The Associated Press
It's also amazing how many women attend this event. Alaskan women are really into outdoor activities and many could take on any man from Minnesota riding a snowmachine in these conditions. We were fortunate enough to know a team that was racing this year and shared their designated spot on racer row. Our friends from Homer, Alaska; Jake Wise [ snowmachiner ] and Dave Evans [ skier ] finished 5th in the Men's ski division.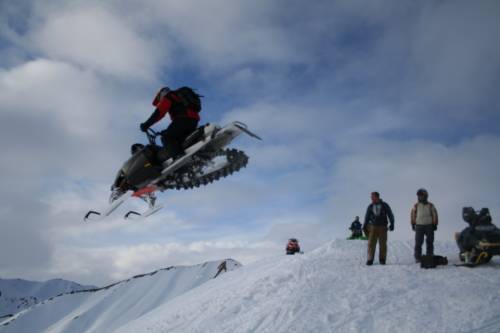 Jumping "The Tit" at the 2007 Arctic Man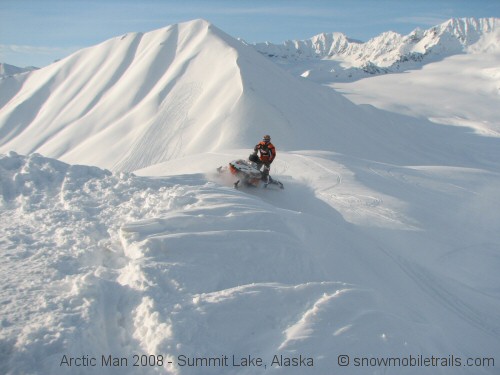 A placed called "The Tit" where the racers start.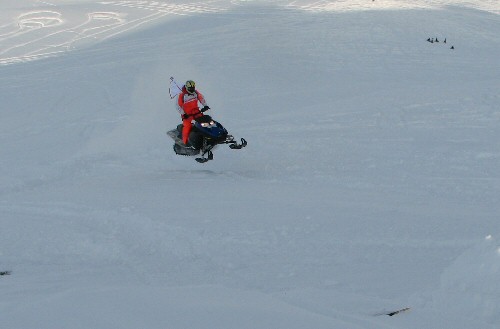 The little specks in the upper right corner are people on sleds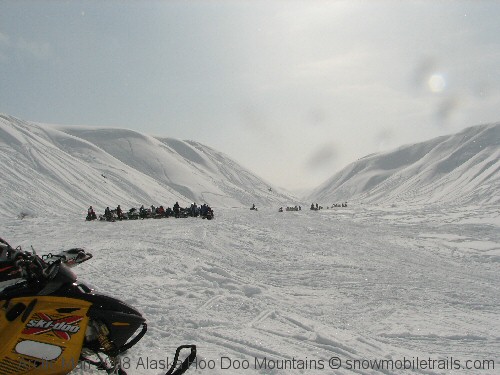 This bowl was a great place to hill climb and carve powder with little avalanche danger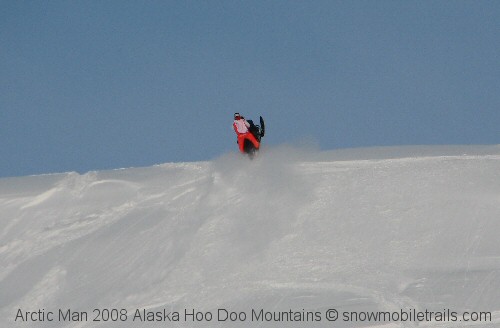 Hill climbing and jumping over the cornice.

Watching the snocross race with thousands of other sledders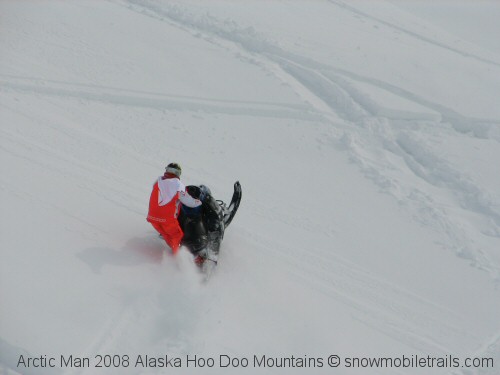 Carving along the side of a powder hill at Arctic Man Event

Ready to hit the untracked powder at Arctic Man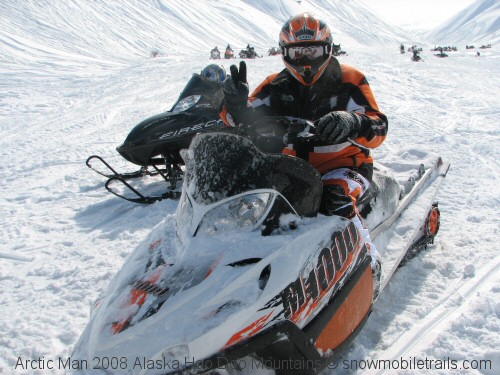 The Arctic Cat M1000 162 was a great sled to have at Arctic Man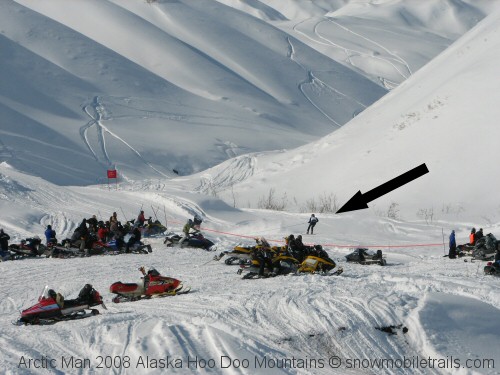 Skier going by with snowmachine pulling at 80 plus miles an hour going up hill
Once you've been to Arctic Man, you'll be back every year...or at least wish you were.
This year is the 24th year the event has taken place and is April 9th - 12th, 2009, see you there...
Alaska Outdoors Supersite has a good story of Arctic Man by Katie Johnson